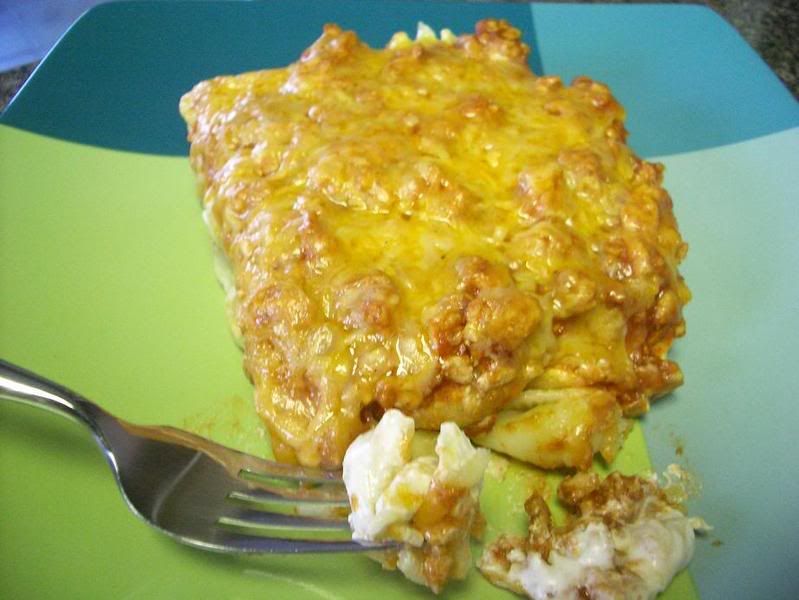 I know, you can't believe that this amazing famous recipe came from MUAH! (well actually, my mom...) This has become a very popular dish on the knot/nest boards and I couldn't be happier! It was one of my fav meals growing up and I'm so glad people seem to love it as much as I do (Shelly - you don't count this time!) Enjoy!
* A pic of the original print-out recipe my mom gave me! *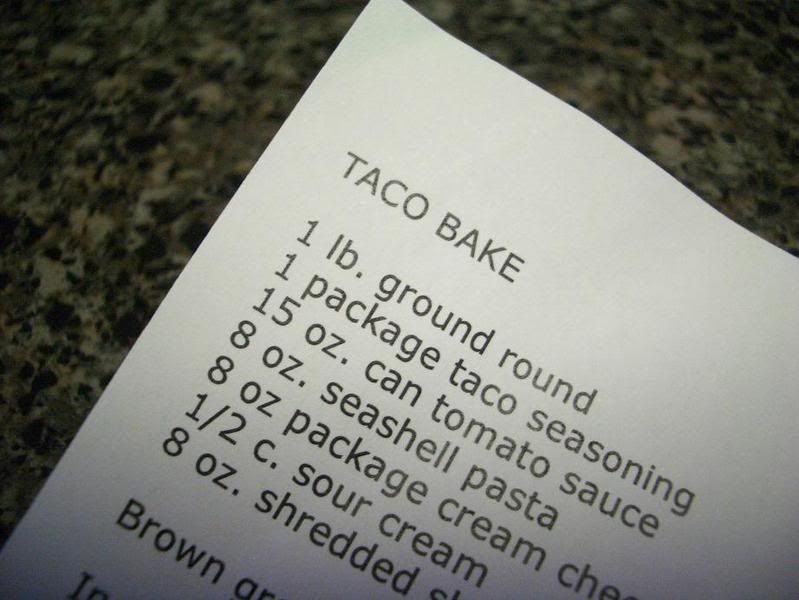 Ingredients
* 1 lb ground beef
(or ground turkey, or ground chicken - I used turkey this time but have tried all three and all are great)
* 1 packet taco seasoning
* 15 oz. tomato sauce
* 8 oz. seashell pasta
(I use medium shells but have tried large too)
* 8 oz. package cream cheese, softened in microwave
(I used fat free)
* 1/2 cup sour cream
(I usually use more like 1 cup of light sour cream)
* 8 oz. shredded sharp cheddar cheese
(I was out of sharp cheddar tonight so I used finely shredded taco cheese - I would not recommend it b/c it made the cheese layer way more oily than usual. Plus the sharp tastes better, in my opinion.)
Directions
1. Brown ground beef, drain. Add taco seasoning and tomato sauce. Bring to a boil and then simmer for 20 minutes.
2. In the meantime, cook pasta according to directions. Drain.
3. Mix softened cream cheese and sour cream in separate bowl.
4. Spray bottom of 9x13 pan. Put pasta in bottom of pan.
5. Spread cream cheese mixture over pasta.
6. Spoon ground meat mixture over this.
7. Sprinkle shredded cheese on top.
8. Bake @ 350 degrees for 30 minutes. Let cool 15 minutes before serving.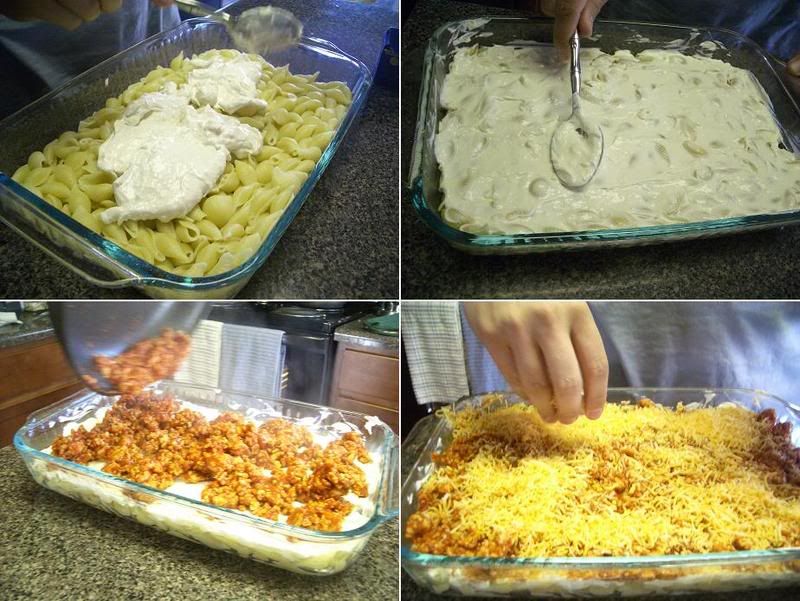 Ta-da! Eat, put leftovers in fridge, warm up for dinner the next night, and repeat. This is almost even better as leftovers. DE-LISHHH-USSSS!!! :)